Resilient mounts for marine exhausts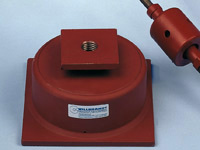 WILLBRANDT exhaust mounts have been specially developed and designed for vibration control in marine applications. These mounts ensure effective isolation of exhaust systems from the hull to prevent vibrations being transmitted from other items of equipment.
Advantages at a glance:
Isolation against thermal influences and radiated heat
No temperature sensitive vulcanisation joint between rubber and metal
Complete technical design of exhaust system
Fast delivery due to a wide range of stocked products
A detailed product description as well as data sheets and design examples are contained in the exhaust catalogue.
print
Privacy Policy
Imprint