News
WILLBRANDT also in France
With the establishment of our subsidiary in France, located in the south of Paris in the district of Ile de France, we have taken an important step towards the implementation of our strategic object - the further expansion of our sales activities in Europe.

With Mr. Michel Lair we have a competent french branch manager. Mr. Lair has not only years of experience in vibration technology and in expansion joints, he is also speaks excellent German and English.

During the development phase, WILLBRANDT France will concentrate in the range of expansion joints, CAVOFLEX wire rope isolators and product solutions for individual sectors.

We are looking forward to the new challenge and the cooperation with our customers in France and WILLBRANDT will be a reliable and competent partner as well.

WILLBRANDT EURL
621, avenue Blaise Pascal
77550 Moissy Cramayel
France
info@willbrandt.fr
Phone +33 185513160
Fax +33 671697677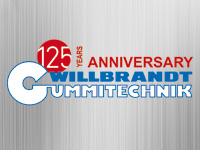 125 Years WILLBRANDT Gummitechnik
Our company is celebrating its 125th anniversary this year. There has been an incredible number of movements and changes in the past 125 years, including in world politics. Therefore we are very glad that we have successfully passed all challenges of time and we are also looking back on our past with a little pride today.
It has been a long journey from our beginnings in the city centre of Hamburg as a specialised supplier for boat supplies to our current position as an internationally active group of companies with over 140 employees that is still family-owned and independent.
Five generations of entrepreneurs have pushed and forced the development of WILLBRANDT KG.
All past and present success would not have been possible without the outstanding teamwork of all our employees, some of them have been working for our company with motivation and competence for decades.
125 years are therefore not only an reason to celebrate, but also a very good opportunity to thank you for the good support you have given to us for many years.
We have already set the course for our further existence and our successful common journey into the future, but we still have many decisions to make. We would like to use this possibility to invite you on a brief journey through time with our company profile in which you can see everything that has happened with us in the past 125 years. We do not want to lose our sight of the future entirely, though!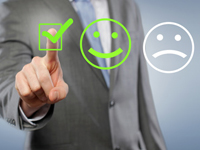 The feedback from our customer survey was very positive in 2016.

Our customer survey was focused on general satisfaction, price performance ratio and the quality of our products.

The pleasant result encourages us to continue the path which we have already taken.

We would like to thank you and our employee for the extraordinary satisfactory survey results and look forward to your wishes and suggestions. The raffle of a small present - in the form of a football - for your participation resulted in a winner located in North Germany.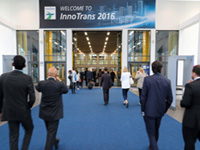 InnoTrans 2016 - Willbrandt on the World Fair for Railway Technology
InnoTrans made Berlin from September, 20th to 23rd 2016 to the global meeting point for the railway industry. On the open-air ground 127 vehicles were introduced more than 140,000 visitors from over 140 countries.
The Willbrandt booth in hall 9 was also the meeting point for many visitors.

Our maintenance free Cavoflex shock absorber made of metal were an eye catcher on the stand!
These are, for example, used in brake systems. Our optimized seals made of rubber and silicone found a lot of interest in addition to air springs and rubber-metal components.

It was a good, varied and exciting exhibition with many interesting discussions.
We are very excited about the following meetings and we look forward together with you to the Innotrans 2018 - glad again with you at our booth.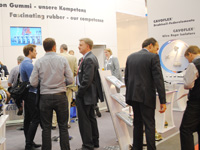 The SMM 2016 in hamburg was a great success for our company
The SMM 2016 was again the world's leading trade fair for the shipbuilding industry with over 93,000 sqm of exhibition space.

More than 2,200 exhibitors welcomed in summer temperatures over 50,000 visitors and WILLBRANDT was part of it.

Our treadmill was the eye-catcher at our booth, which has led many new visitors to our stand. The Willbrandt Vibration Absorbing Pads (VAP's), which are used under treadmills and crosstrainer, have been developed specifically for use on cruise ships.

The many contacts and networking at SMM 2016 make us optimistic for the future. The direct access to our customers, the broad communication and the presentation of pioneering innovations guaranteed the visitors a sustainable stay in Hamburg.

We hope that your visit was also successful and we would be very glad to welcome you in September 2018 again at our booth!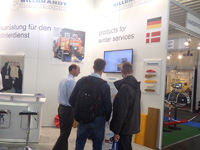 Inter airport 2015
inter airport europe 2015 - The world's leading airport exhibiton in Munich.

For the first time WILLBRANDT KG presented at inter airport europe their extensive variety of products in the field of products for winter services at airports.

Our focus was on the diversity of the snowplough blades made of polyurethane. Eye-catcher were our integrated metal strips and the variety of designs and forms.

The number of visitors and the high professional quality of the exhibition was always very positive. And many interesting discussions did not stop there - several follow-up appointments have resulted from our discussions.

We thank all visitors and look forward to the next inter airport exhibition.
Changes at Willbrandt in Denmark
We are pleased with the very positive development of our Danish subsidiary in the 
past decade. Turnover has increased tenfold and we employ in Denmark and Sweden 
meanwhile 13 colleagues.

In order to be even better prepared for the demands of the market and the customers 
in the future, in the end of April 2015 the legal form of the company was changed from 
WILLBRANDT Gummiteknik ApS in WILLBRANDT Gummiteknik A/S.

As part of this change in legal form the company's share capital was increased to
two million Danish Crones. Still responsible for managing WILLBRANDT in Denmark is 
Mr. Johnny F. Anekjær. 

For this summer also to the auditing according to DIN EN ISO 9001:2015
is enclosed also in Denmark, so we should be good looking to the future.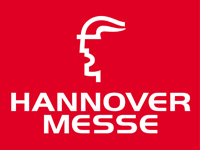 Trade Fair Hannover 2015
From April 13 Hannover will become the center fpr product innovation and latest technology. From the leading trade fairs for industrial automation, energy, environment, power transmission and control, industrial subcontracting and services as well as research and development, there will be about 6000 exhibitors presenting their products.
Let us inform you about:
Profiles and moulded parts made of rubber and plastics
Punched parts / sealings
Vibration technology
Please visit us in our stand in hall 006, stand B30.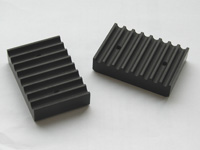 Coating
We are able to offer subsequent coatings for a large number of our products with immediate effect. This measure will considerably extend the product lifecycle.
WILLBRANDT flexible rubber or plastic products can be optimised to a large extent to suit individual applications.
more infos
print
Privacy Policy
Imprint