Wire rope isolators (CAVOFLEX®)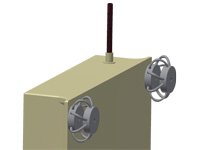 As a result of their excellent damping properties, cable shock mounts are particularly suitable for shocksensitive units. These mounts are designed to give years of service due to their permanent resilience and are resistant to temperature and environmental influences.
All cable mounts are completely maintenance-free with virtually no creep and their almost unchanged resilience under different temperature extremes is a further advantage.
CAVOFLEX® cables comply with international military specifications (NATO, STANAG, MIL specifications) for use with impact and shock-sensitive equipment.
Applications include:
Navigation equipment
Communication systems
Radar systems
Switch cabinets
Engines
Generators
Guns
print
Privacy Policy
Imprint