ROTAFRIX® friction rings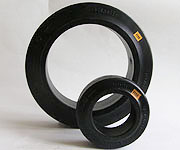 ContiTech ROTAFRIX® friction rings are indispensable components for highly reliable and powerful drum drives. These efficient and maintenance-free rubber rolling contact drives transmit power and speed silently and reliably.
The high coefficient of friction of the contact face ensures high efficiency coupled with low slip.
We also stock the required rims for our friction rings including mounting. These rings are available in steel, grey cast iron and aluminium.
Industrial washing machines
Conveyor belts
Theatre stages
Theme parks
Bearing systems
Wind turbines
Drum drives
General machine construction
print
Privacy Policy
Imprint