Products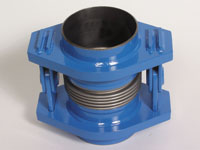 We offer compensators for various applications. Nominal sizes from DN 20 to DN 5000 are available.
In addition to a comprehensive standard range of products, additional compensators can be manufactured according to customers' specifications and pipe systems – with and without tie rods.
It is also possible to provide expansion joints with special accessories in order to fully exploit the advantages of the expansion joints for virtually all applications.
print
Privacy Policy
Imprint