Profiles and Moulded Parts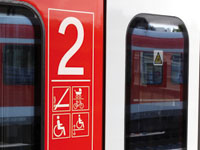 There are numerous applications for profiles and moulded parts in the manufacture and repair of all types of rail vehicles.

Applications are, for example:
Window seals
Door sealsl
Cover and hatch seals
Seals and gaskets
Slot covers
Bumpers
Plugs/frames
Extrudate/moulded partes/punched parts made of EPDM and Silicon for railway applications
Fire safety standards in rolling stock (EN 45545 etc.)
In addition to special seals produced according to manufacturers' drawings, we also stock a wide standard selection of round cords, square profiles, U-shaped profiles, edge protection profiles, etc.

Our experienced engineers will be happy to assist in finding a solution to suit individual sealing problems.

Profile cords can be further processed to rings or frames with seams vulcanised, bonded or
moulded. We also specialise in small and medium-sized series.

Take advantage of our many years of experience and expertise in rubber materials.
print
Privacy Policy
Imprint