Soft PVC bellows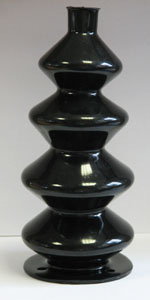 For this type of bellow, a preheated mould is dipped in liquid PVC. The PVC film produced on the mould in the process is tempered in a chamber or continuous furnace. The bellow is removed from the mould with the aid of compressed-air and is subsequently finish machined.
This thermoplastic material is characterised by high ageing and UV resistance and can be used at temperatures between -30°C and +70°C. Good oil and grease resistance can be achieved by the addition of material. Standard colours are black, red, grey and yellow.
The advantages of this production method lie in the relatively low mould costs compared to two or multi-piece injection moulds. Small piece numbers can also be produced cost-effectively.
print
Privacy Policy
Imprint