Roller and wheel fenders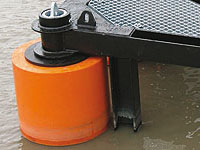 WILLBRANDT wheel and roller fender systems consist of PUR, solid rubber or air-filled tyres. They are built into various steel structures depending on the particular application requirements and are easily rotatable. These fender systems can be supplied with single or several wheels depending on the particular application.
Roller fenders are used to safely guide passing vessels through narrow passages.
Wheel fenders are capable of absorbing impact energies due to their spring characteristics.
They are predominantly installed in the entrance areas of locks, dry docks and other narrow or exposed areas, for example.
print
Privacy Policy
Imprint