Training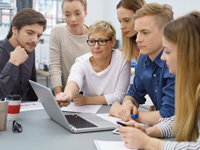 Management assistant in wholesale and foreign trade m/f
For years, WILLBRANDT Gummitechnik has successfully trained young people as management assistants in wholesale and foreign trade. During their three-year apprenticeship, our trainees learn about the work and procedures in the various departments, which include sales, purchasing, accounts and marketing.
Certain trainees are also given the opportunity to acquire additional qualifications.
Mrs Alexandra Bathow is responsible for training at WILLBRANDT and will be pleased to receive your application documents.
print
Privacy Policy
Imprint