SCHWINGMETALL® Premium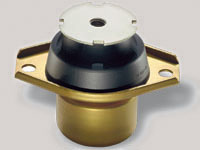 Premium series products:
SCHWINGMETALL® Hydro mount V series
Suitable for loads from 20 kg to 350 kg and ideal for use where shocks occur in addition to vibrations and the natural vibrations of the system are to be quickly suppressed.

SCHWINGMETALL® Hydro cone mount K series
Due to its high lateral stiffness and hydraulic damping in vertical direction, this sturdy, fail-safe K series hydro cone mount is particularly suitable for cabs of construction machines and agricultural vehicles and can also be used for large engines.

SCHWINGMETALL® Air mount HL series
Suitable for loads from 40 kg to 550 kg with very low natural frequencies. In critical frequency ranges, high damping forces suppress system vibrations. Optional height regulation keeps the mount in position also with changing loads.

SCHWINGMETALL® Hydraulic springs
Suitable for high static loads with high static deflections. The hydraulic damping action can be adjusted (within limits) so that certain frequencies are damped where systems are subject to these natural frequencies.
print
Privacy Policy
Imprint