Expansion joints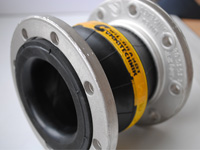 Rubber and stainless steel expansion joints compensate for expansion, movements due to settlement and fit inaccuracies in pipe systems.

Typical applications are water pipes, heating installations and piping in power stations and in the chemical industry. This gives rise to the need for various qualities that comply with the requirements of the particular media (e.g. drinking water, oil, foodstuffs).

Our engineers can calculate and design expansion joints to suit the particular application. A wide variety of types are available from stock and special types can be manufactured at short notice.

A wide network of distribution partners in many countries around the world provide comprehensive consultation and support on site.
print
Privacy Policy
Imprint