RUST-OLEUM® - COATINGS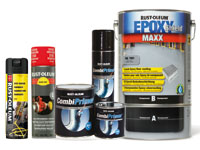 RUST-OLEUM® - Coatings
trusted quality sice 1921
RUST-OLEUM® Products save time and money:
Labour cost for surface preparation are the most expensive part of most paint maintenance projects. Buying and applying the best coatings saves money in the long run (cost per aquare meter per year of service).
RUST-OLEUM® industrial coatings are the most economical choice because they use proven formulas that reduce the need for surface preparation and extend the life of the coating.
The RUST-OLEUM® advantage:
Trusted quality since 1921
Products for virtually every application
Short drying time

High

opacity

Time saving
Cost saving
Longer life time
Meeting health requirements
Meeting european safety regulations
The distribution of RUST-OLEUM® is exclusively through our branch in Berlin.
We deliver:
print
Privacy Policy
Imprint