elBe – Resilient mounts for marine engines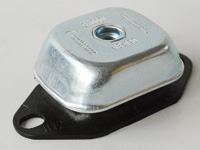 elBe marine engine mounts offer high isolation efficiency for generators, propelling engines and equipment at about 25 Hz (1500 rpm) exciter frequency.
Axial impacts are efficiently absorbed. Lateral movements are limited to ensure good stability. The mounts are fail-safe.
These products are available in galvanised steel as standard. An optional levelling spindle is available for all mounts.
The load range and shore hardness of the employed rubber is 11 kg to 880 kg per bearing point, depending on the type.
print
Privacy Policy
Imprint