Vibration Damper TSD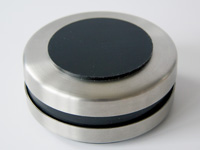 Vibration dampers TSD have been specially developed for the mounting of laboratory equipment such as microscopes, micromanipulators, centrifuges or shakers.
The vibration dampers TSD provide protection against external vibrations on an instrument or prevent the transmission of vibrations to the work desk. The damper TSD is available in five different load ranges.
The unit is simply placed on the dampers.
No fixing is necessary. If the unit has suction feet on the underside, we recommend removing them or using an additional load distribution plate.
print
Privacy Policy
Imprint