Underwater looks for marine vessels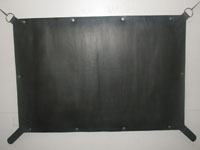 Tried and tested WILLBRANDT products are available for regular in-water surveys of the classification societies and for repair and servicing of floating vessels.
WILLBRANDT Gummitechnik offers a complete solution for maintenance and repairs of pipe systems below the water line with two special underwater lock systems.
Direct hull connections and sea chest openings can now be sealed by divers flush with the skin. Pipe repairs and inspections can be carried out internally without docking and towing costs with only a short mooring time.
Work can be carried out to a "floating" vessel below the water line up to a water depth of maximum 15 m.
WILLBRANDT sea chest locks WSKV 9000 are certified by German Lloyd.
print
Privacy Policy
Imprint