Rubber expansion joints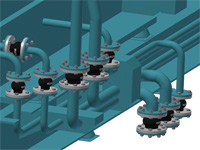 Our expansion joints combined with resilient mounts are ideal for protecting sensitive pipes against shocks.
Typical applications include cooling water, fresh water and ballast water as well as fuel systems.
We can design your pipe system according to specific shock requirements to ensure the reliability of the entire pipe system within given specifications.
print
Privacy Policy
Imprint