WILLBRANDT Shock mounts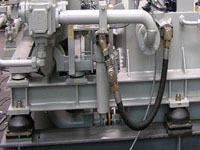 Vibrations, impacts and shocks can degrade the function and life of apparatus and electronic equipment considerably. WILLBRANDT elastomer shock mounts protect apparatus, electronic equipment and systems against vibrations, impacts and shocks.
WILLBRANDT elastomer shock mounts also minimise structure-borne noise. Spring excursions are in excess of 60 mm. Static supporting loads are from 10 - 3000 kg per mount.
Shock mounts have excellent material damping properties. They keep vibration deflection amplitudes to a minimum while passing through unavoidable points of resonance.
WILLBRANDT elastomer shock mounts comply with the following specifications:
DIN 95365 Elastomer mounts Hat mounts
BV 0430 Shock resistance
BV 0440 Vibration resistance
BV 30/VG 95577 Electromagnetic compatibily
MIL-STD 810 D
MIL-STD 167 Vibration
MIL-S 901 Shock
MIL-C 172
STANAG 4142
Our qualified team of engineers will be happy to assist you with all enquiries and provide advice on shock calculations with ShockDesign and test options.
print
Privacy Policy
Imprint