Clamping sets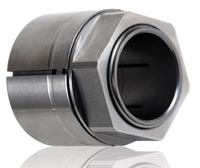 With our clamping sets, you can mount your parts easily, quickly and without much effort.
Just put the parts on the shaft in the right position, tighten the clamping nut - that's it!
Even places in assembly areas which are hard to reach can be realized. Further the subsequent de,mounting is done in a few seconds.
Due to the clamping principle the creation of very complex keyways are not applicable.
Our clamping sets are optimizing the installation and demounting, for example in blowers, packaging machinery, construction machinery, material handling, tool making, and much more.
print
Privacy Policy
Imprint