SCHWINGMETALL® Classic Plus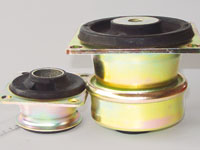 The SCHWINGMETALL ® Classic Plus series includes high-quality products offering additional benefits. Numerous sizes and types with different metal connections allow freedom of design with numerous applications.
SCHWINGMETALL ® Classic Plus series products:
SCHWINGMETALL® Combi mounts
For use with compression/shear mounts or railstrips; designed for inclined mounting arrangements with natural frequencies up to 3.7 Hz with excellent lateral stability.

SCHWINGMETALL® Cone mounts
Universal assembly mounts for moderate loads. High radial stiffness with respect to the axial stiffness provides for good lateral stability. Plates can be added to provide buffer or fail safe mounts.

SCHWINGMETALL® Railstrips
Particularly suitable for heavy and extra-heavy machines, equipment and foundations.

SCHWINGMETALL® Torsion bushes
For smooth torque transmission. The elasticity of this bush allows for minor misalignments and angle errors at both ends of a shaft.

SCHWINGMETALL® Rivet mounts
Ideal for quick fastening. Saves time when large numbers of the same mount need to be quickly fitted.

SCHWINGMETALL® Heavy-duty mounts
Suitable for a wide range of uses. They are generally used so that the static load acts in Z-direction. Fail safe heavy-duty mounts are also available.

SCHWINGMETALL® Instrument mounts
Suitable for loads from 5 kg to 220 kg. These mounts offer uniform stiffness in vertical and horizontal direction.

SCHWINGMETALL® Bell mounts
Suitable for suspended loads (from 2 kg to 70 kg).

SCHWINGMETALL® Shear mounts
Particularly suitable for low loads (from 2 kg to 25 kg per bearing point) at low natural frequencies.

SCHWINGMETALL® Ring mounts
This four-part outer ring of the ring mount is pressed into an undersized hole. This gives a shaft mounted in the inner bush flexible support.

SCHWINGMETALL® Torsion mounts
Suitable for fastening shaft ends flexibly to flat surfaces. This mount allows for axial, radial, torsional and cardanic movements, each with a specific spring stiffness.

SCHWINGMETALL® Dome mounts
Resolve the problem of height regulated, attachment-free mounting of machines and equipment. They are specially designed for virtually identical spring values in vertical and horizontal direction. The height regulation system of these mounts makes it possible to adjust the height of machines and equipment.
print
Privacy Policy
Imprint