Special solutions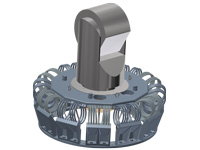 Since not all problems can be solved always by calcu-lation alone, WILLBRANDT can provide detailed assessments based on structure-borne noise, airborne noise and vibration measurements. In addition to our standard catalogue solutions, we also develop products in small numbers to suit specific requirements on request.
The shape and arrangement of the metal components in the elastomer mounts greatly influence the elastic properties of the shock mounts.
Based on decades of experience, we are able to offer a wide range of products to suit specific applications and requirements. Tried and tested modular solutions are also available.
Examples of special products:
HFSE shock mounts for use as top stabilizers, e.g. for switch cabinets
DB universal mounts for high shock amplitudes
SES 5500 mounts for increased supporting loads with moderate shock amplitudes
LSG 4 shocks mounts for main engines for high acoustic requirements
Rail and diagonal rail engine mounts for high loads
print
Privacy Policy
Imprint