Service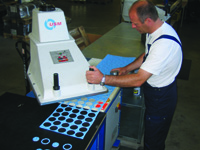 Our strength lies in the manufacture of seals and gaskets at short notice, the production of project-related piece numbers as well as special sizes and piece parts.
Production of the smallest punched part to the largest flange gasket.
As a member of DVGW and DELIWA in the working groups of the DVGW and standard committees, we work towards improving seal and gasket materials. This enables us to further develop our materials to comply with the latest DIN specifications.
Processing of seal and gasket materials up to a width of 1700 mm on various machines (punches, plotters).
print
Privacy Policy
Imprint