Heat resistant materials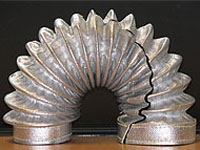 Heat resistant bellows are used, for example, in rolling mills, iron and steel works and in the glass industry. They protect piston rods, shafts and spindles against dust and sparks.
Heat resistant fabrics such as Kevlar, Preox or also glass fibre yarn are used. To achieve maximum mechanical resistance, these materials can additionally be laminated with aluminium foil or coated with silicone. It goes without saying that only asbestos-free materials are used.
For subsequent attachment, these bellows can also be provided with sewn-in zips and Velcro fasteners as well as separable, inner wire rings.
print
Privacy Policy
Imprint