Dolmette – the timing belt rocket on two wheels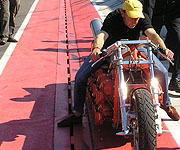 ContiTech double-sided timing belts featuring special teeth are capable of transmitting a torque of 400 Nm. Eleven SUPREME CONTI SYNCHROTWIN® double-sided timing belts with a special tension member run in a serpentine over several stages between 24 chain saw motors.
The greatest difficult here is for the timing belts to absorb and reduce the shocks and asynchronous power output by the 1-cylinder, 2-stroke engines.
Very loud and extremely fast!!
print
Privacy Policy
Imprint