SYLOMER® foundation mounts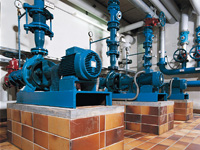 SYLOMER® mats are cellular polyurethane elastomers predominantly used for vibration isolation, shock damping and noise attenuation. The static and dynamic properties of these flexible mounts can be adapted to the particular application by appropriate selection of the surface to be loaded, material type and material thickness.
Advantages at a glance:
Reduced specific surface load
Transmission of dynamic forces over a large area
Less excitation of natural frequencies (flexural vibrations) in the flexibly supported component
Non-slip
No risk of fouling
Use as a "lost casing"
Material properties of SYLOMER® standard products:
Continuous static load up to 0.80 N/mm2
High dynamic load bearing capacity
Excellent resistance to oil, grease, ozone, acid, alkaline solutions and hydrolysis
Operating temperature between -30°C and + 70°C
HIgh level of resilience
Our engineers will be happy to provide sound advice on suitable SYLOMER® products. Delivery takes place in rolls or cut to size, depending on individual requirements.
Further information on SYLOMER® can be found under Noise protection systems
print
Privacy Policy
Imprint