Vibration absorber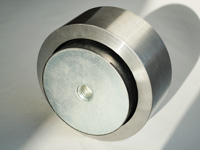 Illegal vibrations can cause damage to buildings and machinery. They also may be responsible for unpleasant body and airborne sound in rooms.

WILLBRANDT vibration absorber are special vibration mounts consisting of a spring-mass system. These are used to reduce unacceptable vibration peaks.

In general, the critical oscillation frequency and the environment in a preliminary investigation is considered in more detail. WILLBRANDT vibration absorber are specifically used in shipbuilding, mechanical engineering and plant construction as a permanent solution to vibration problems.
print
Privacy Policy
Imprint