Vibration Technology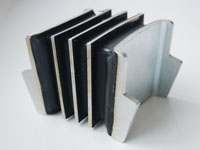 Comfortable travel and low-noise transportation of freight goods are today important requirements which can be met by isolating disturbing vibrations as well as air-borne and structure-borne noise as far as possible. In this respect, correctly designed rubber-metal elements are essential.

In addition to a wide range of standard products, we can also supply the following special articles, for example:
Spring seats
Bogie stops
Spherical joints
Bump stops
Impact buffers
Laminated rubber-metal springs
Conical springs
Rubber spring washers
Chevron springs
Secondary air spring sysetms provide a high level of comfort. CAVOFLEX® cable mounts are used for electronic devices. All-metal spring elements can also be used for certain special applications.

Well known and tested engine and machine mounts developed for railway are used for engines and generators. Shock mounts can be designed and used for particularly high vibrations.
print
Privacy Policy
Imprint