Heavy-duty mounts for wind turbines and marine engines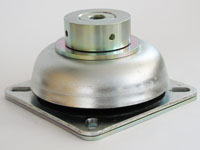 WILLBRANDT acquired its vibration control expertise from shipbuilding. In close co-operation with renowned shipyards, numerous special mounts were developed and manufactured over the years. In addition to numerous tailor-made solutions, products were developed that are used in large numbers.
Similar requirements exist in wind energy applications for gearboxes, generators and other wind turbine components.
WILLBRANDT is also highly in demand in this comparatively young industry as a development partner and supplier.
print
Privacy Policy
Imprint