Requirements for shock mounts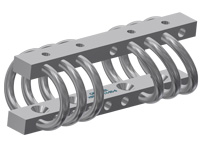 Vibrations, impacts and shocks can degrade the function and life of apparatus and electronic equipment considerably.
We offer a wide range of different shock mounts for minimizing structure-borne noise, making detection harder and extending the life of equipment as well as providing customised solutions or developing tailor-made products to suit any application.

Our shock mounts are designed to absorb extreme energies and reduce loads to a minimum (g-values).
We are your experienced and competent partner for:
shock and vibration mountings with wire rope isolataors (CAVOFLEX®)
elastomer shock and vibration mounts
Our shock mounts are designed for loads up to 25 tons per mount. Typical applications include engines, radar systems, switch cabinets, sensitive electronics, generators, gearboxes and exhausts.
print
Privacy Policy
Imprint