Timing belts - endless and open ended of neoprene and polyurethane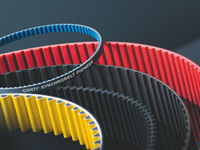 endless and open ended of neoprene and polyurethane
In a similar fashion to the teeth of a gear, the teeth of timing belts engage positively with the mating tooth spaces on pulleys. This positive drive principle ensures synchronous power transmission.
Timing belts with inch or metric tooth profiles are made of high-quality neoprene or polyurethane. Power transmission with an efficiency of 98% under optimal conditions is made possible by using steel, aramide or glass cord reinforcements.
Modern HTD 5M and 8M as well as maintenance-free drives ensure that high torques are transmitted at low or high speeds.
Linear and control technology
Conveying systems
Pump drives
Positioning drives
Machine tools
Printing machines
Office machines
Packaging machines
General machine construction
print
Privacy Policy
Imprint