News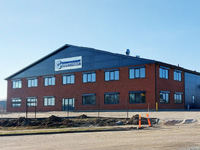 New location in Haslev
After one year of construction, the new location in Haslev, Denmark, is completed. The Danish colleagues will move in mid-April 2021 and fill the building with life.
The new location offers a good 700 sqm of office space and more than 1,500 sqm of manufacturing and logistics space. The Scandinavian activities of the WILLBRANDT Group will be coordinated and executed from Haslev.
Information for customers, suppliers and all other business partners on the current situation of the company due to the coronavirus (COVID-19) pandemic
The corona pandemic continues to have a grip on us humans as individuals and is also affecting many areas of the global economy, even though the first signs of an easing of the situation are becoming visible in small steps.
Germany and many other countries in Europe are currently experiencing another complete or partial lockdown.
However, the development of the daily new infections in conjunction with the vaccinations that have now begun almost worldwide give us hope that a sustained improvement in the general situation will be achieved by the summer, which will then certainly also have an impact on economic expectations for the next few years.
Our hygiene concepts, which we have repeatedly reviewed and adapted, have helped us to come through the crisis almost unscathed so far. We have successfully managed to prevent damage to our employees, but also to all relevant business processes.
Our business operations therefore continue to run without any noteworthy restrictions, and our delivery reliability is fully guaranteed. You can reach your contact persons in the usual way, not personally, but preferably by e-mail, but also by telephone.
In case of fundamental changes in the situation, we will inform you again in due time.
Status: 24 March 2021
Customer survey 2020
This year we have also conducted our customer survey. With your answer to our customer survey we regularly review ourselves and our actions. First of all, we would like to thank you for your participation, constructive criticism and commendation.
The results of the survey are important to us and based on your answers we will derive measures Our target is always to implement your requirements in the best possible way and to be a good and trustful partner for you.
We are looking forward that we were able to further improve our results in comparison to the previous year in the three areas surveyed: employees, products and deliveries.
Concrete topics from our customer survey will be handled with increased priority. We are striving to ensure that the effectiveness of our measures is already apparent in the next customer survey.
And another good news: The raffle of our three prizes will take place in the next few days. We are keeping our fingers crossed.
You are of course welcome to give us a feedback on our performance apart of our annual customer survey. Constructive criticism will be implemented by us soon. We are also very glad to receive your commendation at any time.
We are looking forward to the results of our next customer survey in 2021 and wish you, even in these special times, good health and a successful business year.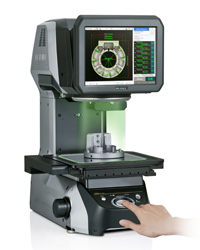 All from one hand - Guaranteed quality assurance at WILLBRANDT
We are optimizing our quality assurance constantly since beginning of the year 2018 we are working with Keyence IM-7000 digital 2D optical comparator. The Keyence GmbH is one of the world's leading companies in the field of optical projectors.
With the IM-7000 optical comparator, we are able to measure complex components down to the smallest detail. We are also able to archive the measured data and compare all subsequent deliveries with the original parts.
Based on the customers requests and requirements, we can also create the documentation for your quality management.
We are glad to offer you measurements of components as additional service.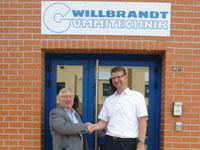 WILLBRANDT also in France
With the establishment of our subsidiary in France, located in the south of Paris in the district of Ile de France, we have taken an important step towards the implementation of our strategic object - the further expansion of our sales activities in Europe.

With Mr. Michel Lair we have a competent french branch manager. Mr. Lair has not only years of experience in vibration technology and in expansion joints, he is also speaks excellent German and English.

During the development phase, WILLBRANDT France will concentrate in the range of expansion joints, CAVOFLEX wire rope isolators and product solutions for individual sectors.

We are looking forward to the new challenge and the cooperation with our customers in France and WILLBRANDT will be a reliable and competent partner as well.

WILLBRANDT EURL
621, avenue Blaise Pascal
77550 Moissy Cramayel
France
info@willbrandt.fr
Phone +33 185513160
Fax +33 671697677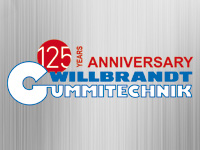 125 Years WILLBRANDT Gummitechnik
Our company is celebrating its 125th anniversary this year. There has been an incredible number of movements and changes in the past 125 years, including in world politics. Therefore we are very glad that we have successfully passed all challenges of time and we are also looking back on our past with a little pride today.
It has been a long journey from our beginnings in the city centre of Hamburg as a specialised supplier for boat supplies to our current position as an internationally active group of companies with over 140 employees that is still family-owned and independent.
Five generations of entrepreneurs have pushed and forced the development of WILLBRANDT KG.
All past and present success would not have been possible without the outstanding teamwork of all our employees, some of them have been working for our company with motivation and competence for decades.
125 years are therefore not only an reason to celebrate, but also a very good opportunity to thank you for the good support you have given to us for many years.
We have already set the course for our further existence and our successful common journey into the future, but we still have many decisions to make. We would like to use this possibility to invite you on a brief journey through time with our company profile in which you can see everything that has happened with us in the past 125 years. We do not want to lose our sight of the future entirely, though!
print
Privacy Policy
Imprint