News
The successful partnership between WILLBRANDT and DURBAL is being expanded!
The successful partnership between WILLBRANDT and DURBAL is being expanded!
For many decades, WILLBRANDT and DURBAL have worked strong together in the range of rod ends and spherical bearings.
A success story that began over 40 years ago.
The basis of this business partnership was from the beginning: customer-oriented service, quality and reliability.
DURBAL and WILLBRANDT have used the past few months to coordinate the productive teamwork even better.
Our on-site technical service expanded and the stock of DURBAL rod ends in the Hamburg headquarters are being expanded.
We also say to all customers - thank you very much for the good partnership over the past few years!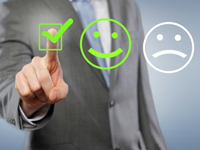 Conclusion of our customer survey this year
First, thanks to all customers who participated in our customer satisfaction survey this year. The drawing of the winners has already taken place.
In summary, we can state that an initial contact with WILLBRANDT came about via a "recommendation". This is also in line with the statement that 95 % of the respondents would recommend us to others. Many thanks for this.
The majority of our customers are "very satisfied/satisfied" (85 % - 90 %). The high level of satisfaction refers both to the selection of our products and information, the very good product knowledge of our employees, and the depth of information that we offer via catalogues and the Internet. We were also particularly pleased that most of our customers are very satisfied with their contacts in terms of support, friendliness, and response time.
A quarter of those surveyed took the opportunity to say a few words to us personally about suggestions and criticism. Among other things, these concerned prices, delivery dates, faster quotations. We have already been able to work through some of these issues in the teams. We were also pleased about your constructive criticism, so we have the possibility to become even better.
We are looking forward to the next survey and hope to be able to improve our results even further.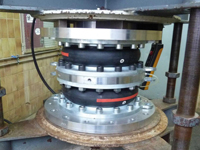 Approvals for Expansion Joints
Expansion joints have to meet very strict requirements in shipbuilding, as they have to ensure the safety of human lives in the event of an emergency. For example, functioning fuel lines are of paramount importance to ensure that the fuel arrives safely in the ship's engine.
Ships can only maneuver if their rudder is impelled by the water. If an engine fails, the rudder no longer receives flow from the ship's propeller, the ship will lay across the swell and risk overturning and capsizing in a strong swell.
WILLBRANDT rubber expansion joints ensure that this does not happen. With a flame resistance test according to DIN EN 15540, WILLBRANDT expansion joints impressively ensure that they are able to withstand a temperature of 800°C for more than 30 min at an internal pressure of 10 bar in the event of a fire in the engine room. Even after this, the expansion joints are still pressure-resistant up to 15 bar.
These 30 minutes are usually sufficient to evacuate a ship, let the crew and passengers climb into the lifeboats and make an emergency call.
Ask for WILLBRANDT rubber expansion joints type 50 yellow ST or type 50 yellow HNBR with "Flame Resistance Test Certificate".
Willbrandt rubber expansion joints meet the requirements of the following classes:
DNV/GL
LR (Lloyds Register)
BV (Bureau Veritas)
RINA
CCS (China Classification Society)
ABS (American Bureau of Shipping)
RMRS (Russian Maritime Register of shippment)
MED (Marine Equipment Directive)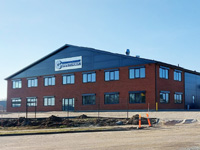 New location in Haslev
After one year of construction, the new location in Haslev, Denmark, is completed. The Danish colleagues will move in mid-April 2021 and fill the building with life.
The new location offers a good 700 sqm of office space and more than 1,500 sqm of manufacturing and logistics space. The Scandinavian activities of the WILLBRANDT Group will be coordinated and executed from Haslev.
Information for customers, suppliers and all other business partners on the current situation of the company due to the coronavirus (COVID-19) pandemic
The corona pandemic continues to have a grip on us humans as individuals and is also affecting many areas of the global economy, even though the first signs of an easing of the situation are becoming visible in small steps.
Germany and many other countries in Europe are currently experiencing another complete or partial lockdown.
However, the development of the daily new infections in conjunction with the vaccinations that have now begun almost worldwide give us hope that a sustained improvement in the general situation will be achieved by the summer, which will then certainly also have an impact on economic expectations for the next few years.
Our hygiene concepts, which we have repeatedly reviewed and adapted, have helped us to come through the crisis almost unscathed so far. We have successfully managed to prevent damage to our employees, but also to all relevant business processes.
Our business operations therefore continue to run without any noteworthy restrictions, and our delivery reliability is fully guaranteed. You can reach your contact persons in the usual way, not personally, but preferably by e-mail, but also by telephone.
In case of fundamental changes in the situation, we will inform you again in due time.
Status: 24 March 2021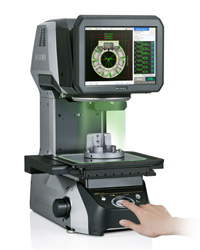 All from one hand - Guaranteed quality assurance at WILLBRANDT
We are optimizing our quality assurance constantly since beginning of the year 2018 we are working with Keyence IM-7000 digital 2D optical comparator. The Keyence GmbH is one of the world's leading companies in the field of optical projectors.
With the IM-7000 optical comparator, we are able to measure complex components down to the smallest detail. We are also able to archive the measured data and compare all subsequent deliveries with the original parts.
Based on the customers requests and requirements, we can also create the documentation for your quality management.
We are glad to offer you measurements of components as additional service.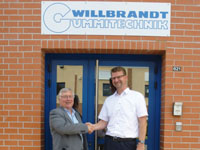 WILLBRANDT also in France
With the establishment of our subsidiary in France, located in the south of Paris in the district of Ile de France, we have taken an important step towards the implementation of our strategic object - the further expansion of our sales activities in Europe.

With Mr. Michel Lair we have a competent french branch manager. Mr. Lair has not only years of experience in vibration technology and in expansion joints, he is also speaks excellent German and English.

During the development phase, WILLBRANDT France will concentrate in the range of expansion joints, CAVOFLEX wire rope isolators and product solutions for individual sectors.

We are looking forward to the new challenge and the cooperation with our customers in France and WILLBRANDT will be a reliable and competent partner as well.

WILLBRANDT EURL
621, avenue Blaise Pascal
77550 Moissy Cramayel
France
info@willbrandt.fr
Phone +33 185513160
Fax +33 671697677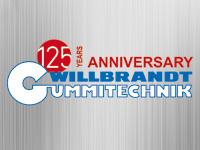 125 Years WILLBRANDT Gummitechnik
Our company is celebrating its 125th anniversary this year. There has been an incredible number of movements and changes in the past 125 years, including in world politics. Therefore we are very glad that we have successfully passed all challenges of time and we are also looking back on our past with a little pride today.
It has been a long journey from our beginnings in the city centre of Hamburg as a specialised supplier for boat supplies to our current position as an internationally active group of companies with over 140 employees that is still family-owned and independent.
Five generations of entrepreneurs have pushed and forced the development of WILLBRANDT KG.
All past and present success would not have been possible without the outstanding teamwork of all our employees, some of them have been working for our company with motivation and competence for decades.
125 years are therefore not only an reason to celebrate, but also a very good opportunity to thank you for the good support you have given to us for many years.
We have already set the course for our further existence and our successful common journey into the future, but we still have many decisions to make. We would like to use this possibility to invite you on a brief journey through time with our company profile in which you can see everything that has happened with us in the past 125 years. We do not want to lose our sight of the future entirely, though!
print
Privacy Policy
Imprint