Axial joints - similar to DIN 71802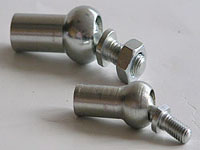 Axial joints are used to transmit static and dynamic forces.
These are available in steel or high-grade steel, bright or galvanised, with or without sealing caps, completely assembled or in component parts with or without hexagon nuts. They are also available with sealing cap and rivet stud.
Current applications of axial joints:
Bowden cable
Linkages
Remote controls
General machine construction
print
Privacy Policy
Imprint