Rubber for ship and harbour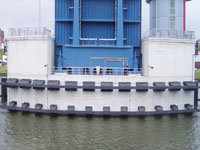 WILLBRANDT has been a considerable supplier of fenders, complete fender systems and sealing profiles for marine, harbour and waterway applications for decades.Our products are designed and manufactured in compliance with EAU 2004 and PIANC 2002.
Our team of engineers handles the planning, drawing, design and, if requested, on-site assembly.
Our range of products is topped off by a diverse selection of fender guards and marine accessories.
print
Privacy Policy
Imprint