GAP Fillers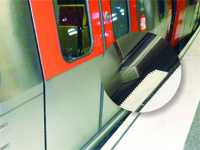 WILLBRANDT GAP fillers are the solution for bridging the gap between platform and train.
GAP fillers make an important contribution to barrier-free development in public transport. Due to their special shape, they are stable enough to be walked on by passengers with walkers, wheelchairs or prams.
People with physical impairments can thus get on and off the train without any problems.
In the event of a possible train contact, the flexibly bendable slats do not cause any damage to the vehicles.
low-maintenance and low-wear
easy assembly and disassembly
different widths bridge almost any gap
easy to adapt to structural conditions (e.g. listed buildings)
ideal for platform positions in curves
no obstacle in the clearance gauge
fire protection classification
low abrasion
different colour variations possible
print
Privacy Policy
Imprint