Products without schock requirements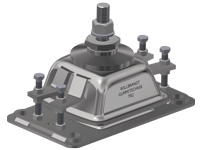 WILLBRANDT vibration dampers protect man and machine against harmful vibrations. Negative emissions can be reduced to a minimum by choosing the right damper and the service life of apparatus and machines increased.
Our dampers, which have been used for years in naval and commercial shipping worldwide, are highly reliable, suitable for universal use and available in a wide range of designs and sizes.
print
Privacy Policy
Imprint