Quality management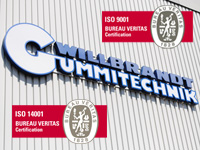 WILLBRANDT KG is a manufacturer and wholesaler of elastomer products as well as supplementary products and see itself as a partner to its customers in both procurement and distribution. Long-established, and in some cases, decades of close business relationships with customers and suppliers are the basis of our continued success. In the key areas - quality, customers, employees, profit, cost and innovation, quality is given pride of place.
Our commitment to quality to which we attach significant importance is the basis for our actions and is successful if it is made an integral part of all our activities.
All of our activities follow a zero-defect strategy with preventative measures to minimise the probability of defects.
WILLBRANDT KG has been certified to DIN EN ISO 9001:2015 since 14 September 2018.
Quality objectives
Customer-oriented thinking and acting at all levels
Sophisticated state of the art products
Qualified advice through close interaction between distribution and application
Long-term business relationships with our suppliers and customers based on mutual trust
print
Privacy Policy
Imprint