Flexible Connections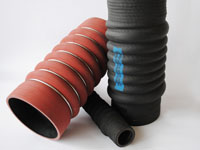 Vibrations occurring during operation at various transition points on trains, locomotives or wagons do not allow rigid, but only flexible connections.
Examples are:
Expansion joints for the connection of, e.g. water or exhaust gas pipes
Bellows, e.g. for air intake
Pleated hoses/spiral hoses, e.g. as robust extensions for the connection of pipes subject to pressure or vacuum
Bends, e.g. engines/drives for tight, short connections
Different qualities can be processed for the inner tube and outer covering depending on the particular application.

In addition to these products, we also supply cooling hoses, cable protective hoses, metal sheathed hoses with fittings and other special products tailored to suit individual requirements.
print
Privacy Policy
Imprint