V-belt pulleys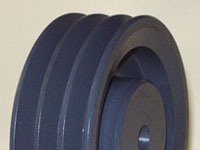 V-belt pulleys with hub and taper lock, profile types SPZ, SPA, SPB and SPC.
Our V-belt pulleys are an essential component of drives for reliable and powerful torque transmission. In combination with our V-belts, cost-effective drives can be realised with a long life expectancy.
The V-belt pulleys consist mainly of grey cast iron and the grooves correspond to DIN 2211/Part 1 and DIN 2217/Part 1.
print
Privacy Policy
Imprint