KSD® mounts – double resilient mounts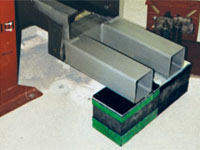 KSD® double resilient mounts are used to effectively isolate machines, apparatus and equipment.
Important technical advantages:
Reduction of construction times
Costly foundations are often unnecessary without additional ceiling loads.


KSD® mounts are modular for flexible use
Six standard types are available for loads up to 9.5 kN per mount.
The dimensions are identical.


Easy retrofitting as required
Subsequent calculation and easy fitting.


KSD® mounts provide effective isolation
Technical rooms that generate noise can be arranged close to
rooms requiring sound protection.


Solution for maximum vibration requirements
Double resilient mounts ensure reliable isolation of, e.g. also impulsive excitations (impacts).
Ask for our catalogues. For enquiries or problems, our sales team and highly qualified engineers can be contacted by phone or an appointment arranged for a personal consultation.
print
Privacy Policy
Imprint