Clevises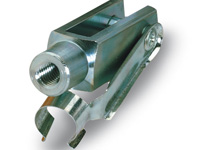 Clevises are used to transmit static and dynamic forces. These are available in steel or high-grade steel, bright or galvanised. Left-hand thread and stainless steel types are also available. Mounting takes place using cotter bolts or folding spring bolts.
Clevises according to DIN 71752 with coating
Clevises according to DIN 71752 are provided with a WILLBRANDT Teflon coating to ensure reliable protection in aggressive environments, e.g. chlorine in indoor and outdoor use.
print
Privacy Policy
Imprint