Napped pulleys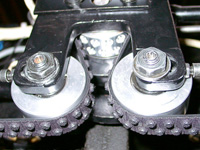 Napped pulleys in combination with ContiTech Synchrodrive nubbed belts provide a totally non-slip drive. The N10 profile is comparable with the T10 timing belt, except the N10 nubbed belt does not require any form of guidance.
Napped pulleys do not require side flanges. The nubbed construction ensures that the belt maintains full contact with the pulley. These pulleys are available in aluminium, steel or stainless steel.
For manufacturing purposes, we only need to know the number of required nubbed belts and their width.
print
Privacy Policy
Imprint