SCHWINGMETALL® Classic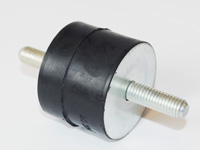 This standard brand product stands out due to its reliability, safety and efficiency. All products have been fully tested and are of the highest quality.
Numerous sizes and types with different metal connections allow freedom of design with numerous applications.
SCHWINGMETALL® Classic Series products:
SCHWINGMETALL ® Compression/shear mounts
Preferably used for small to moderate loads in all areas of machine, apparatus and engine construction.

SCHWINGMETALL ® Buffers
Used in combination with cushioning mounts to limit vibration amplitudes and absorb the forces generated by belt pull.

SCHWINGMETALL ® Railstrip/Railstrip sections
Particularly suitable for heavy and extra-heavy machines.
A machining service, which includes shortening thread lengths, drilling holes and thread cutting, can be provided according to customers' specifications or drawings.
print
Privacy Policy
Imprint