Vibration Absorbing Pads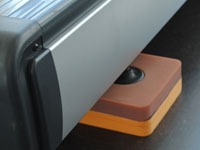 Vibrations that can be disturbing or liable to damage exercise machines are a thing of the past. On cruise ships, mega-yachts, in health clubs or gyms in high-rise buildings - the applications of Vibration Absorbing Pads are numerous.

On floors, in the vicinity of offices or other noise-sensitive areas in particular, the use of gym or other equipment can frequently give rise to disturbing noise and/or vibrations. The reduction of air-borne noise in adjacent rooms of up to 10 dB is possible, so that cost-intensive structural measures can often be avoided.

WILLBRANDT designs the material suited to each application with the required geometry on a threedimensional basis to produce the perfect absorbing pad.
Reduction of impact sound within a room
Less transmission of vibrations on upper or lower floors
Protection of exercise machines
Low retrofitting costs
Reduction of loads for joints and tendons.
print
Privacy Policy
Imprint