Special seals and gaskets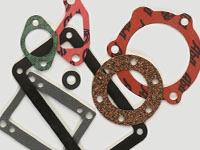 We are specialised in gaskets for gas and water pipes. We also develop and produce gaskets for cleaning and sweeping machines.
A large number of our products are manufactured at our Hanover subsidiary. Our machinery includes punches, plotters and milling machines, which we use for small batch series and large-scale production.
We stock a wide range of finished and semi-finished products which is continuously being expanded.
print
Privacy Policy
Imprint