Circle fenders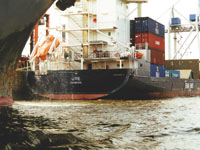 Circle fenders are used worldwide as standard fenders at numerous wharfs due to their excellent energy absorption and reaction force ratio.
Circle fenders are usually combined with steel plates with PE protecting plates to provide a very large, homogenous contact surface area to the ship.
In numerous cases (e.g. strong tidal lifts), several systems are fitted one on top of the other.
Chain systems are used for additional securing purposes depending on the size of the particular fender type.
print
Privacy Policy
Imprint