Floating foam fenders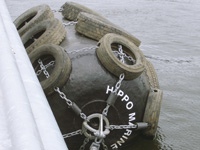 Floating foam fenders are tried and tested fender elements which are used predominantly in applications subject to strong tidal variations due to their buoyancy. Their high energy absorption at a low specific weight is a considerable advantage in particular for ship-to-ship operations and other offshore applications. Due to the non-discolouring PUR outer skin, floating foam fenders are frequently used in cruise ship terminals.
Advantages of floating foam fenders at a glance:
Unlimited sizes due to variable production
High energy absorption, variable through foam modification
Attachment to chains, bars or rope systems
Unsinkable due to the use of closed cell foam types
Non-discolouring PUR outer skin
Individual colours available, also navy-grey
Chain/tyre net for heavy duty applications
WILLBRANDT floating foam fenders are certified by German Lloyd.
A Donut fender is a special type of floating foam fender which is mounted vertically "like a donut" on mooring posts and also moves with the tidal lift. This type of fender is also available in different types and sizes.
print
Privacy Policy
Imprint