Roundfenders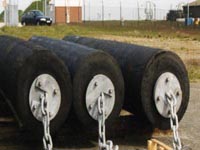 WILLBRANDT round rubber fenders are versatile and robust components. A large number of graded dimensions allows us to provide tailor-made solutions with defined performance characteristics.
Fastening or attachment takes place easily with chains or tubular frames.
Round fenders have a progressive characteristic (soft initial spring characteristic, high load bearing capacity at the ends).
print
Privacy Policy
Imprint