System linkages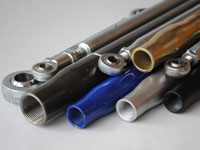 WILLBRANDT system linkages transmit dynamic and static forces and are available with internal and external threads.
Joint heads are available as sliding or roller bearing design.
The high-quality single components of the system linkages are produced with high precision. They impress with their high-level of reliability.
We tailor the system linkages to your application with fork heads, angle joints, joint heads in standard and special threads available from M4 to M48.
The WILLBRANDT system linkages are also availible in curved shape.
Material: Steel or Stainless Steel (others on request).
Surface protection: galvanized, painted, with coating, chromed, anodized (others on request)
Usage examples: packaging machinery, construction machines, ventilation systems, door systems, commercial vehicles, rescue equipment, industrial trucks, robotics, textile machinery, tool technology, systems engineering and much more.
print
Privacy Policy
Imprint