Theatre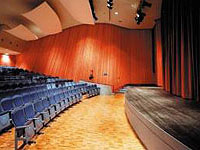 Whether Shakespeare or Brecht – the best play is nothing without the right stage set.
The set in the park followed 20 seconds later by a new set. Our ROTAFRIX® friction wheels turn big wheels!
Revolving stages allow the use of numerous sets for exciting theatre!
The high coefficients of our neoprene friction wheels are achieved with small transmission ratios (e.g. 1:200), cost-effective and maintenance-free drives.
print
Privacy Policy
Imprint