V-ribbed belts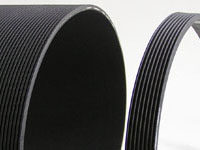 V-ribbed belts were developed as an addition to V-belts. They combine the high flexibility of flat belts with the effective power transmission of V-belts.
Because of their excellent bending characteristics they are particularly suitable for serpentine drives. Extreme transmission ratios of up to 1:40 are possible. In addition to polyester as a standard reinforcement, an aramide reinforcement can be used for the profiles PL and PM. Power transmission with an efficiency of up to 98% is possible.
For maintenance-free drives, we recommend V-ribbed belts with special reinforcements that make retensioning unnecessary and extend the life of the belt.
Compressor drives
Washing machines
Multiple shaft drives
Pump drives
General machine construction
print
Privacy Policy
Imprint